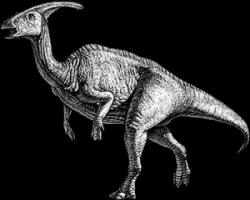 I had been asleep for a while and awoke with a 'I've been naughty' to a bemused Keith. 'Yes'? he replied, eliciting a response of sorts.
'Remember when you said that it would be nice to have a pet'?
'Yes'? a quizical response came.
'Well, I bought it'!
'Bought what'?
'A Cephalumpus'
'A what'?
'A Cephalumpus from the pet shop'. came the respone in a terse manner as if he didn't know what a Cephalumpus was. (Well of course he didn't as it was the first time he had ever heard of one of them)
'It's a dinosaur – and its cute'
'Oh'. came the answer I wasn't expecting.
'Where are we going to keep it a dinsoaur'?
'You can build it a dog house (or rather a cephalumpus house) outside on the lawn'
'Can I now'? he replied in voice full of a resigned to the fact tone
'Yes and it'll be no trouble at all and I'll look after it and it will give me something to do and it's going to be lovely and just look at him, isn't he the most lovely pet you've ever had'? I hurriedly replied.
'How big is he going to grow to'? Keith asked – definitely in a resigned to the fact tone of voice.
'Oo, not very very big, but sort of big, but not BIG' I answered (I didn't know myself and couldn't or wouldn't tell Keith that)
'And he'll be no trouble at all and just look at him, he's so cute isn't he'? I hastily replied, desperate to confuse Keith so he couldn't say no to me.
Keith gave up trying to argue with me at this point and went back to sleep and I was so happy that we now had a Cephalumpus as a pet.
(Many more animals were to follow such as the Baby Seal, a Donkey, Starfish, a Dolphin – OH and some fishcakes, A large cave, T-Rexs, The Alluring Goats, Anchevois, a Large hadrosaur Collider, a Meatly Beast, The Great Equivialent, Lampies, a monk called The Feral Bede, a Velocipatra, a Parasolalumpus , Eeps, The Glorious Traculator, Equities,The End Of The World Garage, Llandidlio, and things known as Traffic Bites)